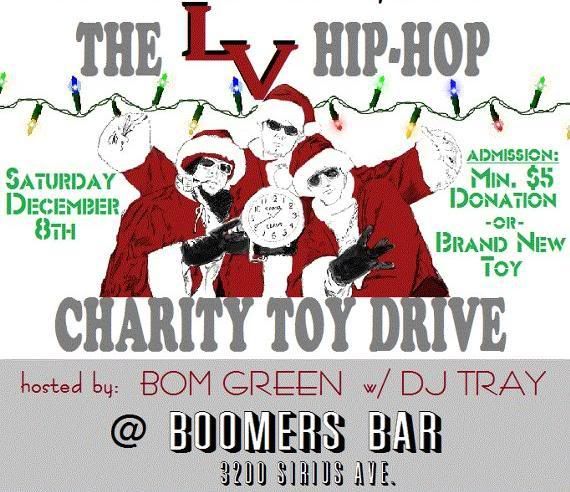 Frank Bumps is donating his time, along with a SLEW of other talented Vegas MCs, Sponsors,
Artists and the entire hip hop community to bring Christmas to under privileged children
Arrive before 9:30pm for a very SPECIAL performance by YOURS TRULY: Frank Bumps.
_________________________________________________________
OFFICIAL EVENT INFO: https://www.facebook.com/events/348315688593636/
"That Time Of The Year's Coming Where It's Our Turn For Us As A Local Scene To Give Back To Our Community!"


Ear2Ear Entertainment presents...
============================
..::|[•The LV Hip Hop Charity Toy Drive•]|::..
============================
Saturday December 8th, 2012
@ Boomers Bar (3200 Sirius Ave.)
hosted by: Bom Green w/ DJ Tray on the wheelz
8pm-2am | min. $5 donation -or- new toy | 21+
live performances by:
•Los Marijuanos
•Space Hog Tha Boss
•P.O.L.O. (mob zombie)
•HighDro
•Mr. Young Wink
•Image 1
•JaBs (subhop)
•Tanan The Infinite
•Crane Crushers
•Frank Bumps
live art by:
•Anthony Martinez (subhop)
•Dent One
display art by:
•Loki
Also... Acapella Battle Rap for $100 Cash!
3 Judges, 2 MC's 'Head-to-Head', 2-60 Second Rounds & 1-90 Second Round, No Ties... WINNER TAKES ALL!!!
the battle:
•Mista Krimzon
~vs~
•Jullian Gicasso
Plus... Special Guest Judges, Open Mic, Drink Specials, Raffle Drawings, Giveaways, + So Much More!
sponsored by:
•Ear2Ear Entertainment
•Boomers Bar
•Conflict 420
•Johnny Applepipe
•Courtesy Flush Radio Show
•Dream Queen Entertainment
•VegasOnTheMic.com
•Tanan White Media
•The Street Chambers Of Commerce
•Goozbumpz Entertainment
•Jeri Forth Productions
•The Area Recording Studio
•Mov'Em Radio
•Hip Hop Roots
•Baby Daddy Guru
"I'm putting together this hip hop show/toy drive to help give back to the city we love & take so much pride in. All the arists and sponsors that are involved in this show are donating their time and effort for this great cause. Cost of admission will be a minimum of a $5 donation at the door (which will go to buying more toys/gift cards for the kids) -or- a donation of a brand new toy or gift card at the door (all gift cards must be brought with the receipt). Boomers will also be donating a portion of the bar sells for that night as well. Just so everyones aware, this means there will be no free entry for anybody that's performing, hosting, djing, sponsoring, supporting, ect. (including myself)... EVERYBODY MUST bring a donation! All donations will be taken to the '14th Annual KLUC Morning Zoo Toy Drive' and given to their toy drive in the name of 'THE LAS VEGAS UNDERGROUND HIP HOP SCENE.' I know not many of us listen to main stream radio nor this particular station, but my family & I have donated to them every year that we can afford to do so only because they ARE the biggest independent toy drive in country and ALL the donations made to them go strictly to Las Vegas childeren in need. This has ZERO to do with this radio station, getting air time, getting recognized or shouted out over the air waves & has EVERYTHING to do with helping Vegas children with little-to-nothing have a Christmas that they otherwise may not have had. I'm excited about this & I think it's something that'll help people realize that Vegas Hip Hop can do great things for this city just as ANY other company/genre/scene/politician or whoever can do!"
-Bom Green-
(more info on this page as event develops)
for more info on how to be part of this event, please email:
BomGreen@Live.com