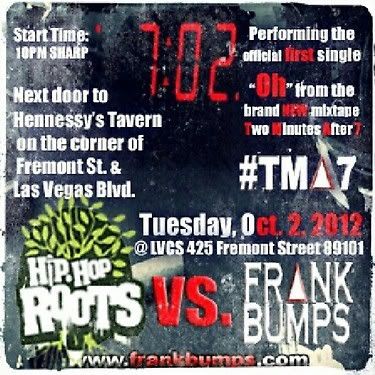 Frank Bumps will be performing the newly announced first single "Oh" from his debut project Two Minutes After 7 this Tuesday, October 2, 2012 @ LVCS (Las Vegas Country Saloon) in downtown Las Vegas.
Hip Hop Roots is the longest running weekly Hip Hop Show in Las Vegas who's stage has been blessed by hip hop royalty like: Aesop Rock, Inspectah Deck (Wu-Tang), Rass Kass, and Masta Killah just to name a few.
World renowned battle champ Iron Solomon will also be present that evening (Oct. 2) so don't miss it!
Map of LVCS | Facebook Event | Download "Oh" FREE
Don't forget to download Two Minutes After 7: *HERE*